Hello, everyone. It's Kou from FHW.
Three of our upcoming titles in development 「Goodbye World」, 「Shinobi non Grata」, and 「Mercenaries Rebirth」 will have demos available to check out at
STEAM NEXT FEST (Steam Next Fest June 2022 Edition Coming Soon)!


All three titles are scheduled for release by the end of 2022、
so please feel free to add them to your Wishlist if you're interested!
Below are brief introductions about our 3 titles!
Goodbye World
The reality before their eyes. Their hopes are forgotten. The tale of two creators.
・Story
Programmer Kanii and graphic designer Kumade met while attending college. After graduation, the two decided to make indie games rather than get jobs, but a harsh reality awaited them. Their games didn't sell well, and they spent most of their time working part jobs for hours and hours…
While Kanii rushes to try and create a game that will sell well, Kumade makes a serious decision.
・Game Introduction
「GOODBYE WORLD」 is a narrative adventure game.
Play through 12 stages of a puzzle platformer game while exploring 13 chapters of the Kanii and Kumade's story.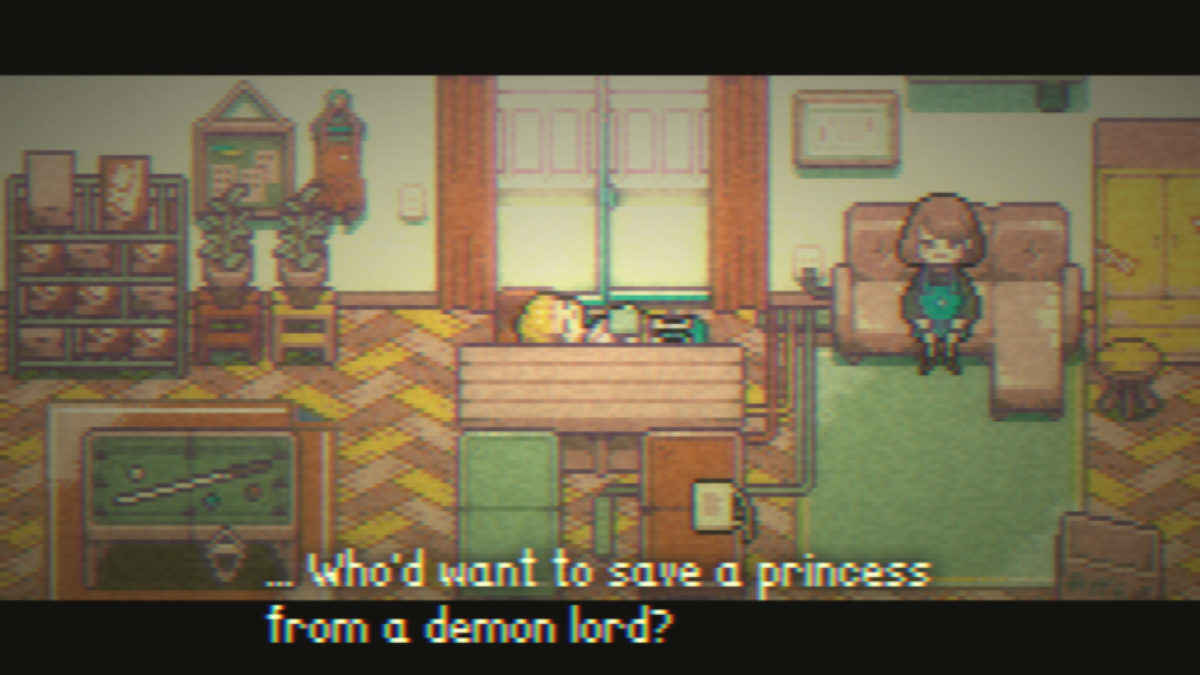 Here is Goodbye World's STEAM Store Page!
Please be sure to add it to your Wishlist!
Shinobi non Grata
Shinobi alert! The way of the shinobi has been revived! Use your seven shinobi weapons to survive the bloodshed during the Bakumatsu-era!
The definitive hardcore 2D Shinobi action game with hyper-retro graphics!
Shinobi non Grata is a 2D action platformer in which players take the role of Kaina, a descendent of the Fumma shinobi clan, as they battle the Oboro Ittо̄ Clan that is plotting to overthrow the Shogunate government.
Use your cherished sword, the Murasame, to cut down bum-rushing enemies!
If you are ever in a tricky situation, use sub-weapons such as the Shiruken, Kusarigama, and Hand Cannon!
Fight and run past an abandoned shrine, a valley of ghosts, a ninja mansion, and crush bosses waiting at the end!
・Story

The 9th year of the Tenpō era was a period of unrest and war in Japan. The leader of the Oboro Ittо̄ Clan, Genba Kitsuragi, forms an unholy union with the demon world and plots to overthrow the Shogunate government. One kage fights against their plot: Kaina, a descendant of a clan of demon-slaying shinobi that have fought the dark forces over the ages. The fight against demons has now begun.
Here is Shinobi non Grata's STEAM Store Page!
Please be sure to add it to your Wishlist!
Mercenaries Rebirth: Call of the Wild Lynx

Obtain the sword of victory together with Princess Kiera and the Wild Lynx mercenaries!
「Mercenaries Rebirth」 is a tactical simulation RPG set in a fantasy world.
Battles occur on quarter-view maps with height differences, wherein the front, back, and side of the map determine each battle's outcome. Support effects depend on where allied characters from your party are in position, etc., features of high strategic maneuvers.
Enjoy a high degree of character cultivation by using skill points earned in battles, skill acquisition, enhancements, class change, etc.
Talented Illustrator Makimura Shunsuke-san is the appointed character designer! Beautifully drawn characters play more active roles with rich facial expressions that vary from joy, sadness, anger, etc.
・Rebirth Exceed
Rebirth Exceed is the key to victory!
The gauge in the upper right corner of the screen builds up anytime the Player attacks and defends during battles.
Store enough power to activate a particular skill called "Rebirth Exceed"!
Each character has unique talents, including dealing with godly damage to enemies and reviving fallen allies who cannot fight.
Using Rebirth Exceed is the key to victory!
Here is Mercenaries Rebirth's STEAM Store Page!
Please be sure to add it to your Wishlist!


Afterwords
So, what do you think about the information about the demo versions of our three upcoming titles?
Please feel free to check out our publisher STEAM page for more information about them and our other releases!
Flyhigh Times is always accepting anonymous fan mail on our Marshmallow page!
If you have any impressions/thoughts on the article or questions you would like to ask the developer or production team, please send them our way!